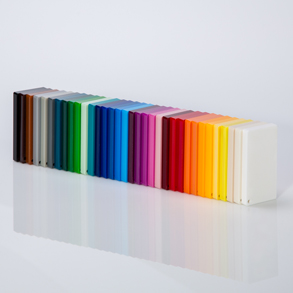 As a long-standing partner of different producers from all over Europe, we have fast access to an extensive range of coloured acrylic and Plexiglas sheets. Therefore we can even have special requests such as particular shades, material thicknesses or nonstandard sizes produced for us at short notice.
For the most common applications we keep a wide range of different materials for our customers on stock in our high-bay warehouse.
Please contact us for further information on the wide range of materials and processing options.
Your advantage:
Extensive range of shades available at short notice
Individual shades and material thicknesses possible
Cost savings due to special formats
Applications:
Shopfitting – acrylic bins and covers, 3D letters
Displays – showcases for the Point of Sale, POS displays
Illuminated advertising – light diffusers, illuminated letters
Advertising - tombstones, awards, 3D laser engraving, signs, brochure holders, promotional material
Signage – logo displays, shop displays
Technical parts – precise milled and laser-cut parts for medical devices
Protective glazing for machines made of Plexiglas and polycarbonate
BUD 23880

POI 41440

TET 23880

DS 37946

POI 32311

DS 26000

DS 26000

LIC 23880

20327

TSX 24540

TSI 20703

LIC 8866

BUD 23880

LAS 42537

DS 42364

POI 24203

20073

DS 24421

1314

TET 2215

DS 31103

LIC 34574

LIC 25725

DS 12636

LAS 8985

LAS 8088/ 8093

TSI 21361

TSI 11756

POI 20294

TSI 24065

TSI 22298

TSI 25856

TSI 24482

TSI 26923

TSI 30230

TSI 30463

TSI 35209

TSI 32357

TSI 33892

TSI 33607

TSI 30825

TSI 30825

TSI 33855

TSI 41086

TSI 40754

TSI 40209

TSI 40407

TSI 40974

TSI 41420

TSI 8398