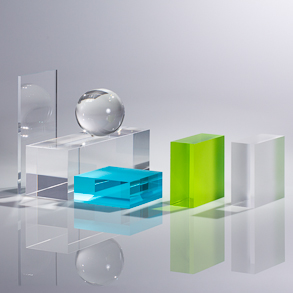 Acrylic glass or Plexiglas is one of the most innovative types of plastic of our time. Due to its durability as well as its outstanding qualities it is suitable for applications in contact with food, in the medical field, for illuminated advertising, for displays, in shopfitting and exhibition stand construction, for promotional material and a lot more.
The wide range of processing methods of acrylic glass such as laser cutting, milling, heat laminating or printing sets hardly any limits to its use. If acrylic and Plexiglas are processed professionally, they do not emit pollutants and they can easily be recycled.
Evonik Industries AG offers a 30-year guarantee on Plexiglas against yellowing and loss of brightness.As a long-standing partner of Evonik Industries AG and other well-known producers from all over Europe, we have direct access to an extensive range of sheets and other semi-finished products.
But even when it comes to other synthetic material such as polycarbonate, hard PVC, PVC freefoam, polystyrole (HPS), PET, polyamide or PE, we are your expert partner.
We always have clear acrylic glass as a standard material available for our customers on stock in the thickness of 2-100 mm.
Please contact us for further information on the wide range of materials and processing options.
Your advantage:
Immediate availability of clear acrylic glass in the thickness of 2-100 mm
Fast delivery directly from the manufacturer
Individual shades and material thicknesses possible
Cost savings due to special formats
Applications:
Shopfitting – acrylic bins and covers, 3D letters
Displays – showcases for the Point of Sale, POS displays
Illuminated advertising – light diffusers, illuminated letters
Advertising - tombstones, awards, 3D laser engraving, signs, brochure holders, promotional material
Signage – logo displays, shop displays
Technical parts – precise milled and laser-cut parts for medical devices
protective glazing for machines made of Plexiglas and polycarbonate
BUD 23880

TSX 13052

DS 26000

TET 39971

HUS 4570

EUV 27770

TSI 45947

DS 39576

TSX 23683

HUS 11139

EUV 26783

TSX 23681

TSI 45328

LAS 31239

TET 23880

EUV 8294

POI 3782

DS 32234

POI 24237

BUD 23880

LAS 42537

EUV 21244

DS 24421

POI 11018

HRS 683

POI 10808

HRS 3574

LAS 13768

TSI 45917

TSI 39572

TSI 48708

TET 23880

TSI 48394

DS 31103

POI 23491

HRS 917

TSI 41081

POI 16261

EUV 14645

POI 6231

1735

POI 5534

TSI 48329

POI 20211

EUV 22597

TSI 41907

TSI 18033

TSI 46425

TSI 47147

LAS 23774

POI 20030

TSI 44026

POI 2024

TSI 43378

POI 23354

LAS 11541

DS 11754

POI 16380

TSI 44922

POI 7730

POI 22342

TSI 44813

TSS 22718 RAD

TSI 42928

TSI 46636

TSI 46556

TSI 49032

TSI 45887

TSI 44076

TSI 41420

TSI 47084

TSI 46086

TSI 32666

TSI 40696

TSI 45927

TSI 45067

TSI 46571

TSI 20648

TSI 27718

TSI 29288

TSI 25329

TSI 30230

TSI 30167

TSI 32357

TSI 33892

TSI 30383

TSI 32147

TSI 33607

TSI 30825

TSI 30825

TSI 30825

TSI 41086

TSI 40209

TSI 41849

TSI 40407

TSI 41420

TSI 31315